Heart-to-heart communication is the most powerful. Facts and logical arguments have their places in our communication, but they are wooden without the heart of the speaker connecting with the hearts of the audience.
We communicate with heart when we touch each other's basic humanity—the deepest emotions that we all share, such as fear, hope, joy, and self-doubt.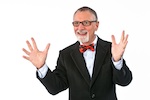 The amazing truth is that audiences warm up to a speaker when they get the sense that the speaker respects them for who they are as both hurting and hopeful persons, not for what the speaker wants them to be. In order to earn the right to be heard, a speaker must first connect, heart to heart, without pretension or self-righteousness.
— Q  Twitter: @quentinschultze