As email and texting are becoming forms of junk mail, handwritten thank-you notes are gaining renewed importance.
When I went to a local printer to buy a few hundred personalized note cards, the proprietor told me that he doesn't get many orders anymore. "People just order a couple dozen online if they need any," he lamented. "The personalized note card is about dead."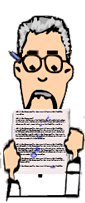 My college students used to ask me if they should send a thank-you note to someone who interviewed them for a job or gave them an informational interview. Now they rarely ask me. They just send an email—quick and easy.
The fact is that a handwritten thank-you note now carries considerably more meaning than it did even 20 years ago, when they were common. The note has to be genuine, from the heart, but not over the top emotionally. And it really only has to accomplish one extremely important purpose, namely, to express gratitude. Not flattery.
Emoticons and clever text prose just can't compete with idiosyncratic cursive writing. We all own our own handwriting—for good and for bad. If yours is pretty shaky, get some lined paper and practice like you once did in school. I'm not kidding. The only kind of note worse than an impersonal text message is one in sloppy cursive.
Write your notes well, from the heart. Be brief and grateful.
Thankfully yours,
Quin