Gutenberg, the Devil, and Distressed InDesign Pros
In my new Kindle book, I show that Gutenberg (1394–1468) failed at the one thing he most wanted to invent, namely a movable-type printing process that would enable him to compete with the scribes and especially the manuscript illuminators who created the fine, often gold-leafed images in handwritten manuscripts. Educated in a monastery, Gutenberg was taken by visually stunning artwork and saw no market for plain, text books. He wanted his books to give visual glory to God while delighting readers.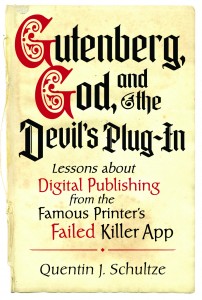 Gutenberg was like today's InDesign artists who yearn for a plug-in that would allow them to convert their fine print designs into visually impressive e-books.
I hope the adjacent cover image whets your appetite for the rest of the story, in which the devil makes an appearance. Please subscribe to this blog or my Twitter account (@quentinschultze) for updates. Read more about the book at Amazon.
I wish peace to all of you InDesign folks who have to contend with what the glorious digital revolution does to your masterpieces when they become e-books.
Thanks to my crackerjack designer, Matthew Plescher, for this great cover.
— Quin